Protecting Caroline by Susan Stoker
Book 1 in the Seal of Protection series
Goodreads:
Amazon:
**Protecting Caroline is a stand-alone love story. It's Book 1 in the SEAL of Protection Series.**
Matthew "Wolf" Steel hated flying commercial. Luckily his job as a Navy SEAL meant he didn't have to do it very often. He'd been unlucky enough to be assigned a middle seat on the cramped jet, but fortunately for him, the woman next to him was willing to switch seats with him. Hoping for a relaxing flight, Wolf was pleasantly surprised at the good conversation and sense of humor the woman had as they flew 36,000 feet over the countryside.
When Caroline boarded the plane to Virginia to move across the country for her new job she never expected to be seated next to the hottest guy she'd ever seen. She also never expected he'd be so easy to talk to. She knew he'd never be interested in talking to her if he hadn't been trapped in the seat next to her, but it was a nice way to spend a long plane ride.
Neither Wolf nor Caroline were prepared for a terrorist hijacking of their plane, but if Caroline thought that would be the last time she'd see, or need, Wolf, she'd be sorely mistaken.
Start the SEAL of Protection Series with Caroline and Wolf's story
*5 STARS*
Let Emma Stone and I tell you a story.
There once was a blogger named Kristen. She was in a terrible reading slump. Every time she tried to start a new book, after a few pages she would get bored.
Then along came Houston Book Rave. After the roaring good time she had at last year's event, Kristen had been looking forward to this year's event something fierce! Back in August she'd met a lovely author by the name of Alisa Mullen, who was also at Book Rave, and it was through her that Kristen met Susan Stoker (I wish I had a picture of the 2 of us to put here but we were too preoccupied with causing a ruckus to get one). Susan writes hot, action-packed romance novels. Kristen took one look at Susan's covers and was hooked.
Kristen decided to buy Susan's first 2 books in her Seal of Protection series solely based on the covers (don't judge me). How could she resist those bare chests and washboard abs?
When Kristen got home from Book Rave she couldn't decide which one of her 30+ books she should read (again, don't judge me). On the top of the stack in her main bag was Protecting Caroline and the cover just called to me. Read me, Kristen. You know you want to. Reeeeeeeeeead meeeeeeeee. Caress my cover. Reeeeeeead meeeeeeee.
Okay, I haven't had enough coffee to keep that 3rd person nonsense up, so just go with it.
Protecting Caroline was awesome, plain and simple. The romance between Matthew and Caroline is perfect. There are some steamy moments but I wouldn't classify it as erotica. It is definitely adult romance, but there are no explicit sexy times in this book.
The story starts off with a short prologue introducing us to all of the boys: Wolf, Abe, Mozart, Cookie, Dude, and Benny. Wow, I got those all on the first try.
Anywho, Matthew and Caroline are seated next to each other on a flight to Norfolk, VA. Caroline has the aisle seat but after seeing Matthew's broad shoulders and long legs, she offers to trade him for his dreaded middle seat. After that they strike up a casual conversation about their professions. Caroline is a chemist and I really loved how Mizz Stoker described her job.
After they are served their complimentary in-flight beverage, Caroline discovers something fishy with the ice. We're never told exactly what is wrong with the ice, only that it smells weird and it's been tainted with some sort of drug that knocks all of the passengers on the flight out. Of course, Caroline stops Matthew from drinking his orange juice (side note: I found Matthew's choice of beverage oddly endearing) and then with Caroline's help he is able to alert Abe and Mozart, who were also flying with him to Norfolk, not to drink their drinks as well.
The action picks up from there and does not stop. Every time something happens to Caroline she brushes it off and keeps on trucking like a freaking superhero. I LOVED that! I loved that Mizz Stoker wrote Caroline to be so strong and selfless, but she was also witty and honest and humble. Half the time her internal dialogue was her second guessing herself, but she was not about to give up and let innocent people get hurt. Basically, she was amazing.
Now, onto the boys, or should I say men? We've got a team of six badass, raw, ripped, smart, tender hearted SEALs. I mean, HELL YES. They all have their nicknames and at times I would get a little confused when Mizz Stoker would jump back and forth between their nicknames and real names (Caroline insisted on calling them by their real names), but it wasn't enough to distract me from the story.
Matthew "Wolf" Steele is the leader of their team and he is delicious. He gets the job done with a swift quickness but is also so sweet and protective of Caroline.
I don't want to give away too much of the plot because I went into this book pretty much blind other than I knew there was a hot SEAL who saves a plane from being hijacked and there was a lady who was going to steal his heart...which is pretty much the norm for adult romance books, and I like it!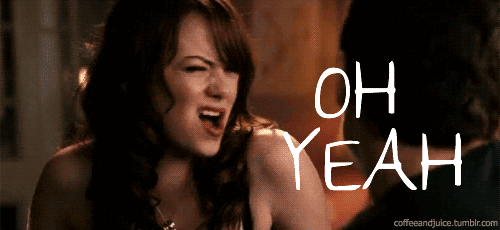 Before I wrap this up (because I could sit and look at Emma Stone gifs all day, seriously) I do want to touch on the rest of the SEALs (well I'd like to literally "touch on" them, but you know...there's that whole fictional character issue to contend with, le sigh). I really loved all of the guys, Cookie especially. I can see him becoming my favorite. He was so sweet and gentle with Caroline. OH and there's a part at the end.....when something happens.....and Cookie made me cry. We're not talking a tear leaking out of the corner of my eye. Oh no, we're talking blurry eyed, can't read till I blow my nose, somebody hold me, crying.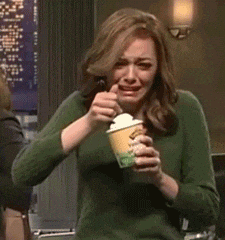 This book gets 5 stars because I stayed up late just to finish it. I couldn't put it down, and I very rarely actually sacrifice my sleep to read. I know, I'm atrocious, but you don't wanna know me when I don't get enough sleep. I've got book 2 all ready to go, but sadly I will have to wait until I have fulfilled my adult obligations before I can sit down and read.