Title: Dead of Winter (The Beautiful Dead, #2)
Author: Daryl Banner
Release Date: November 6, 2014
Genre: Post - Post Apocalyptic Zombie
Blurb
No one said being an Undead is easy.
Winter's Second Life became a lot more complicated when the Living moved into her hometown of Trenton. Undead neighbors fight with their Breathing ones. Food is sparse. And, worst of all, the season is taking a change for the colder.
A desperate plea for help to a neighboring city turns deadly and soon Winter finds herself facing an old friend from her past whose plot to annihilate all life on the planet may have everything to do with her.
And what about the man-with-the-heartbeat in her house? Is there even room for love in such a ruined, unforgiving world?
New friends are made. Others are lost forever. In the dead of winter, no one is safe.
Purchase Dead of Winter
Excerpt
I get up from the table, deciding to go to the sink. I can wash my hands six or seven more times, they won't feel any more clean, not after what I've done.
"Winter."
I stop halfway past the kitchenette, turn to look back at him. He's still watching me. His brown eyes show fiercely, even from across the room.
After a very long pause, I respond. "Yes, John?"
"I'm alive because of you."
I press my lips together. I'm not sure what his angle is, what he's getting at. Even the way he says it, it sounds half an accusation. As though my helping him to survive were yet another bad thing I've done. Shame on me.
"Okay," I say back curtly, needing to hear where he's going with this. He looks away. I can tell he's troubled, but I can't stand waiting for him to speak. "Is there … something I'm supposed to be saying?"
His face is pale and stern, his eyes not able to rest on anything in the room. "There are demons in me, Winter. Demons. Bad, bad demons that I can't get rid of." He crosses the room, which is startling because he's suddenly very close to me. Next to the table now, he starts picking at the wood, pensive, staring down at it. "They don't let me sleep. They've made me … awful."
Is this an apology? "We all have demons."
"But yours are a lifetime ago. Literally." He chuckles without a smile, empty and feeble. "Winter, what I'm trying to say is …" He looks up finally. The effect his eyes have when they burrow into mine is staggering. Those Living earthen orbs of light in his face, they smolder. John and his wet, totally-alive, tear-capable eyes.
"Yeah?" I encourage him.
He takes another step closer to me. I resist an urge to back away, resist another urge to press into his solid, inviting body. "Please don't mistake my demons for hate. Winter, you've shown me so much care … You've given me a home … You risked everything. I'll never be able to repay you, ever. In ten lifetimes. I don't hate you."
So many words are caught in my throat suddenly. The only one that escapes is: "Okay."
Phew okay. I guess I'll start this review off with a warning: Daryl Banner likes to club your emotions and force all the feels on you. He is definitely on my Emotional Trauma at the Hands of an Author List (aka my Automatic Reads List). Dead of Winter was an emotional roller coaster to say the least, but not one with a lot of dips. It felt like I was on a roller coaster that only went up. Sure there were some little hiccups of action along the way, but for the first half or so, it was a smooth, enjoyable read.
In my review of The Beautiful Dead I said I hoped we got more of John and Winter together. Here's how I picture John in my mind.
Please don't mistake my demons for hate. Winter, you've shown me so much care...You've given me a home...You risked everything. I'll never be able to repay you, ever. In ten lifetimes. I don't hate you.
"I'd die for you," he repeats, quieter. "I'd rather you not," I admit with a smile. "I would...really miss your heartbeat."

Jasmine was one of my favorite characters. She's the most well-liked by the Humans out of all the Undead. She's a sweet grandma with a keen eye and a wealth of wisdom. Let's face it, she's Betty White.
Sometimes trouble is a drug. People are drawn to it. People are born by it.
But I say, a far better thing to have risked taking such a journey and die reaching for that dream...than to not have taken one at all.
Happily-ever-after is just helping someone else find theirs.
A quick touch on The Chief. I was impressed with him. He's the leader of the Humans, has their survival resting firmly on his shoulders, and he didn't completely shun the Undead. He worked with Helena for co-habitation of Trenton, and he was very tolerant of the Undead. Plus there was this description of him that had me rolling.
I heard he sleeps with one eye open, cuddling an axe.
And of course, we see Grim again.
Until each tree has fallen, until every flower has wilted, until the sky is painted in permanent silver, we will know no peace. It is inevitable, Winter. Death is inevitable.
As for Winter, hair as white as winter, ice blue eyes, full of conviction and always trying to do what is right. There is only one image I have in my mind when it comes to her.
So after that halfway mark, stuff happens. Lots of stuff. Stuff that turned me into a blubbering mess and this was me for the rest of the book.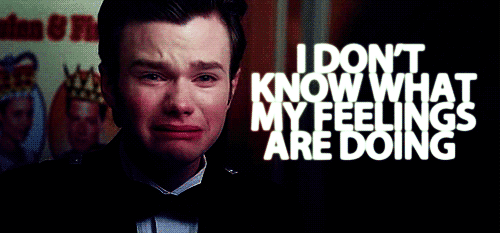 Thank goodness I have book 3...
Mr. Banner, you have officially ruined me.
The Beautiful Dead (The Beautiful Dead, #1)
She's dead.
In fact, the whole world's dead. Every single person, apparently. Unburied and reimagined into a beautiful living-dead woman called Winter, she is doomed to spend the rest of eternity in a quaint, peaceful city with no hunger, no sickness and no bills to pay. Her Second Life is perfect in every way possible.
So why is she so bent on destroying it all?
After angering the mayor, befriending rebel headless teenagers and igniting romance with a dark and brooding neighbor, she finds herself wrestling madly with a First Life she cannot remember and this Second Life she cannot accept. Not to mention the maniacal army of rotting corpses who want her dead. Again.
But none of that matters in comparison to an even worse problem. There's a guest in her house. A rude, good-looking man on the run ... a man with a heartbeat.
Almost Alive (Beautiful Dead, #3)
Coming April 24th
Pre Order on Amazon
Twelve years have passed since the devastation.
The world is changed. What once was a planet struggling to survive is now a planet bursting to life. The humans are thriving. Gardens are growing. Trees are reaching up to the sky and the Undeadly clutch on the planet is slowly letting go.
But what does that mean for Winter and her friends?
In the wake of spring, the last of the desperate Undead gather, fighting to maintain their place in a world that no longer wants them. Mother Nature slowly but certainly works to purge the planet of the Dead, just when Winter thought she had finally embraced this Second Life.
Her new friends are back and old nemeses return for the final chapter in Winter's Undead journey.
About the Author
Daryl Banner is a writer and composer who graduated from the University of Houston with a degree in Theatre and Psychology. After writing several plays and a musical in college, he started composing for short films and websites, one of which is the Vamplets "Baby Vampyre Dolls" website:

(www.vamplets.com) I

nteresting tidbits: Daryl is also an obsessive piano player, video game enthusiast, and occasional actor. He's been remixing video game music for over fifteen years, and is a passionate Final Fantasy fan. You can feed your ears with many of his remixes (as well as his original music) on his YouTube page "

www.youtube.com/DarylBanner

". Also, he personally answers all emails he receives, so if you have some strange desire to write him, he may enjoy it. He currently resides in Texas.
Connect with Daryl
Giveaway!